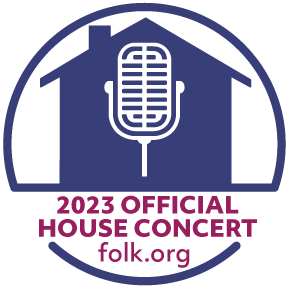 Covid JazzVox Expectations
(in-person events):
*** We will follow the current Washington State / concert County guidelines. Vaccination and mask use are not currently required.
~~~~
Frequently Asked Questions and Information:
What is a house concert?
Just what it sounds like – enjoy fantastic music within the intimate and comfortable environment of someone's home. The intent for house concerts is that it is in a private home for an extended circle of friends and family of the presenter, home owners and musicians. You probably found your way to this website by being referred by a friend who has been to a concert in the past. Please consider joining the mailing list so the information comes to you. We keep the quality as high as you would experience in a club only with a smaller audience and without the ringing of a club phone or dishes clanking or people walking around. Want to meet the artists? Not a problem – in fact they often interact with the audience during the concert.
I want to go! / Refund policy
Nich just keeps a list. Reservations are available via Eventbrite (See the Upcoming Concerts tab along the top of the website).  You will get an immediate email from Eventbrite – scroll down and look under "Additional Information" to see the home address/other information.  Seating is limited to approx. 30-40 guests depending on location. I like to collect donations in advance so that I have one less thing to do that night and you can just come and enjoy. ***Cancellation/Transfer policy***: Up to 7 days before the concert, you may cancel and request a refund or transfer your donation to another upcoming concert. Within 7 days, please feel free to find someone to come instead of you and email/text me to change the name on the guest list. As it gets close to the concert, it is difficult to get the word out to find potential replacement concertgoers / adjust for food preparation / etc.
What's the focus of JazzVox?
We strive to bring jazz singers from around the world for Seattle-area audiences to enjoy in an intimate environment. Often they are paired with Seattle's best pianists, but sometimes bring incredible duo partners with them.
Food? Beverage?
There is always a food buffet unless otherwise noted. Brunch before the show for afternoon concerts or pre or post-concert nibbles for evening performances. Wine and other beverages are available but you are certainly welcome to bring a bottle of your favorite wine to share.
Location of concerts?
Why no address/directions on the website? This isn't a business. The hosts don't make money on the events. It's all about having a great time and putting some green in the artists' pockets who usually are doing this at a very discounted amount because it's a rewarding experience. One of the requirements for this not to be considered a business is that the address not be listed on the website – done! When you make your donation to reserve your seat, Eventbrite send you a confirmation email along with address and other information (scroll down in the email and find the address under "Additional Information".
Some of the locations:
Auburn (though think NE Federal Way):
Nich's condo is located in a gated community between I-5 and 167 approximately 25-30 mins (in great traffic) from downtown Seattle, Tacoma or Bellevue.
Greenwood:
Ziggy and Teresa Spiz's new home –
Shoes off at the door please at this location. Slippers ok
Madrona:
Mike Spiz & Alyssa Hays' contemporary new home located east of Capital Hill.
Shoes on is OK.  They even have their own sound system!
Bainbridge Island:
We are fortunate enough to have several homes in this lovely community which we rotate through.
Is there an age restriction?
Ages 14+ please. High school students have a suggested donation of $20 but must be accompanied by an adult (at full donation) or another student.
Times?
Friday performances (usually on Bainbridge) vary.
Saturday performances: Doors open and food at 6:00pm. The concert is 7:00pm – 9:00pm (or so…)
Sunday afternoon performances check for times. (often 1:00pm doors open/food, 2-3:30pm performance but sometimes Seahawks need to be watched or other factors are at play).
Please verify show times on the website/ e-mails as your show approaches in case adjustments need to be made.
Do I need to bring anything?
Artists usually have CDs available for purchase (usually $15-20/CD) and artists love to sign them. Some people like to bring a bottle of their favorite wine to share.
Allergic to cats?
All but the Madrona and Downtown locations have cats – you should be fine unless REALLY allergic. Cats are locked away in bedrooms at the Auburn and Camano locations.
Handicap Accessible?
Auburn has stairs.
While Camano has stairs, there is a small elevator that can be used for those in need – just let us know. There is however a steep driveway to get to the house – let us know in advance and we can save you a spot so you can drive up to the garage for easier handicapped access.
Northgate has good accessibility as does Downtown
Food allergies?
Please let Nich know at least a week in advance and we can do our best to have some options available to you.
Who picks the artists?
Nich (with input from a variety of people). I usually book the following year's series during the spring and try to mix returning artists with new. Artists: the best time to approach me for consideration is Jan/Feb.
Other questions / Suggestions?
If you have questions, or to obtain a mailing address (for those who prefer to make advance donations by check), e-mail Nich at ([email protected]) or call 206-963-2430.