The JazzVox CD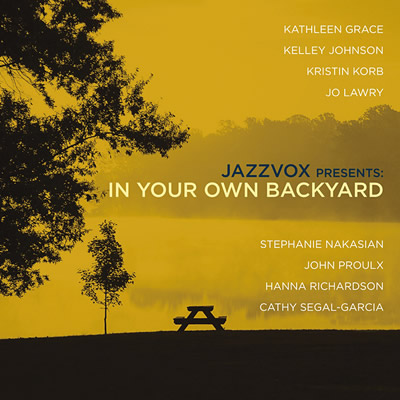 Purchase online: OA2 Records, Amazon.com, BestBuy.com, Barnes & Noble.
About the JazzVox CD:
Did you know the JazzVox series has its own CD? In an effort to share with the world a little of the intimate (usually duo format) concerts we enjoy, this recording was recorded while artists were in town performing for the JazzVox series. It was released to fantastic reviews and received great national airplay. In addition to on-line retailers, it can be purchased at most JazzVox concerts (just ask Nich). See below for some sound clips and reviews:
Song Clips:
Kathleen Grace & Darin Clendenin: Moon River

Kristin Korb & Randy Halberstadt: Comes Loves

John Proulx & Chuck Kistler: Please Don't Bug Me

Kelley Johnson & Keith Ganz: Blue Monk

Hanna Richardson & Patti Wicks: Back In Your Own Backyard

Stephanie Nakasian & Bill Anschell: All My Tomorrows

Cathy Segal-Garcia & John Stowell: The Cat

CD Reviews:
OA2 Records, out of Seattle, has issued a compilation of singers and most of them are well worth hearing. I guess everyone has their own favorites, but here are mine: John Proulx, a singer-pianist with a similarity to Chet Baker (but he's a better singer). He does a Frank Rosolino rarity called "Please Don't Bug Me" and also contributes a delicate love song to his newly born daughter entitled "Welcome to My World." Proulx has a couple CDs out on the MaxJazz label which I highly recommend. Kristin Korb is a dedicated jazz singer who scores on "Comes Love" and "You're Getting to Be a Habit with Me." And Seattle resident Kelley Johnson comes on strong with "Blue Monk" and "Triste." Finally, there's Hanna Richardson, a straight from the heart singer who reminds me just a bit of Maxine Sullivan. You'll love her no-gimmick renditions of "Back in Your Own Backyard" and "These Foolish Things." There are five more singers on the disc, and not a bad apple in the bucket. So if you're into quality jazz singing, this is a disc worth seeking out.
— George Fendel, Jazz Society of Oregon
JazzVox is a house concert series that inspired producer Nich Anderson to feature some of his favorite vocalists in duo settings in the studio. Some of them have had greater national exposure than others, but each singer excels in his or her performances. Stephanie Nakasian is a veteran who has been on the jazz scene for a long time, a rich alto who delivers a magical "All My Tomorrows" accompanied by pianist Patti Wicks and a playful "Perdido" with pianist Bill Anschell. Vocalist/pianist John Proulx offers a delightful take of Frank Rosolino's neglected bop gem "Please Don't Bug Me" and his warm original ballad "Welcome to My World," both featuring bassist Chuck Kistler. Vocalist/bassist Kristin Korb delivers a hip rendition of the oft-recorded "Comes Love" and a Latin-flavored "You're Getting to Be a Habit with Me" with pianist Randy Halberstadt. Kathleen Grace chose two decades-old gems: "Moon River" and "If Ever I Would Leave You," joined by pianist Darin Clendenin, adding something fresh to each piece with emotional renditions. Jo Lawry brings out the whimsical nature of "Honeysuckle Rose" with Bill Anschell's playful accompaniment. Cathy Segal-Garcia's sassy "The Cat" features the veteran alto with guitarist John Stowell, while Nich Anderson's upbeat treatment of the venerable standard "Time After Time" has some delightful soloing by Patti Wicks as well. Hanna Richardson's reflective setting of "These Foolish Things" (with Patti Wicks) and Kelley Johnson's buoyant duet of "Triste" with guitarist Keith Ganz round out this enjoyable vocal compilation.
— Ken Dryden, AllMusic.com
A phenomenon that has been expanding in various parts of the country is the home jazz concert. With the decreasing number of jazz clubs, especially outside of the major metropolitan areas, it is becoming increasingly difficult for jazz enthusiasts to enjoy their preferred style of music in a live setting. The answer for those with spaces large enough to accommodate a modest sized audience has been for them to invite fellow diggers to come to their homes, and for a nominal cost, enjoy jazz featuring first tier performers. One of the hosts of these events is a gentleman from the Seattle area named Nich Anderson. His overriding interest centers on vocalists with a jazz flavor. About a year and a half ago, he started bringing his guest vocalists into a studio to record a few tracks with the idea of producing an album that would enable him to share the talents of his featured artists with a wider audience. The results of this effort can be found on a CD titled Jazzvox Presents: In Your Own Backyard (OA2 Records – 22077). The singers are Kathleen Grace, Kristin Korb, John Proulx, Kelley Johnson, Jo Lawry, Hanna Richardson, Stephanie Nakasian and Cathy Segal-Garcia, with a special guest appearance by host Anderson who is not a professional singer, but who handles himself very nicely, thank you, on "Time After Time," accompanied by pianist Patti Wicks. Each of them has two selections on the album. The performers are mostly West Coast based, the exceptions being Richardson and Nakasian. All are first rate vocalists, each with an individual sound and style that is wonderfully accessible to any listener with a taste for straight ahead, jazz-influenced vocalizing. Space does not permit any detailed analysis of the singers and the songs. Suffice to say that this is a fine collection that has already entered my player several times, and will continue to do so.
— Joe Lang, Jersey Jazz
Nich Anderson is a Northwest coast jazz vocalist and jazz vocals champion who has been bringing jazz vocal talent to his "house concerts" in Washington State for the past 10 years. Anderson and Origin Records' house presence Bill Anschell have produced a recording documenting some of this talent. The result is a collection of duets and trios, intimate in presentation, overt in the sheer ability of its participants, that well highlight the state of vocal jazz at the opening of the 21st Century. This group of jazz vocalists is called Jazzvox. The gender demographics reflect the recorded literature: an overwhelming majority of female participants (seven) versus male (two). The vocal styles included on this disc all share in common a reverent adherence to the original melody. The repertoire is all over the map, from jazz standards like Kelley Johnson's version of Thelonious Monk's "Blue Monk," with guitarist Keith Ganz, to Fats Waller's pre-swing era "Honeysuckle Rose," from Anschell and Jo Lawry.There is plenty of scat singing, with Kathleen Grace's "Moon River" and John Proulx's "Please Don't Bug Me" being standouts. The most effective pairings here are Hanna Richardson with pianist Patti Wicks ("Back in Your Own Back Yard" and "These Foolish Things") and John Proulx and Chuck Kistler ("Please Don't Bug Me" and "Welcome To My World"). The presence of Wicks, a fine pianist to be sure, is why she did not also sing (Proulx accompanies himself on piano). Hers is a one-of-a-kind voice. Anderson, the provocateur, appears with Wicks on a bouncing "Time After Time." His voice as sweet as Proulx's at a lower register. Wicks solos with the most brio on the disc, keeping a bit of stride moving things along. Lawry closes the disc with a most inventive trio-led "But Not For Me," accompanied by Anschell and accordionist David Lange. In Your Own Backyard is the second vocals collection released by Origin Arts after Redefinition by Jeff Baker's Vocal Jazz Collective. It looks like they're onto something.
— C. Michael Bailey, AllAboutJazz.com
Nich Anderson has been hosting jazz house concerts in Auburn, Washington during the past few years that generally feature singers in a duo. He has also occasionally recorded the artists in a studio. In Your Own Backyard is his first release and it showcases a variety of fine singers on one or two songs apiece, accompanied either by a pianist or a guitarist. Featured are Kathleen Grace, Kristin Korb, John Proulx, Kelley Johnson, Jo Lawry, Hanna Richardson, Stephanie Nakasian, Cathy Segal-Garcia, and Nich Anderson himself (on "Time After Time"). The biggest discoveries for this listener were Kathleen Grace (who sounds so happy on "Moon River" and "If Ever I Would Leave You") and Jo Lawry. Ms. Lawry, the only artist heard on three numbers, swings on "I'm Old Fashioned" and "Honeysuckle Rose." She interacts with pianist Bill Anschell and accordionist David Lange (the only trio on the CD) on a playful and surprising free version of "But Not For Me." All of the singers fare well on this well-conceived set, available from www.jazzvox.com.
— Scott Yanow, LAJazzScene
Jazzvox Presents: In Your Own Backyard (2009-10 [2011], OA2): Seventeen songs (only two originals) by nine singers — three by Jo Lawry; two each by Kathleen Grace, Kelley Johnson, Kristin Korb, John Proulx, Stephanie Nakasian, Hanna Richardson; one each by Nich Anderson and Cathy Segal-Garcia — backed minimally (most with just one of piano, bass, or guitar; no one with more than two, and no drums, but one accordion). Mixed bag, but many cuts are striking, including Anderson's "Time After Time" — he produced, but seems to be the only one without a record out, and is the only one whose name is missing from the cover. I guess Jazzvox is his baby, and that's enough. B+
— Tom Hull, Jazz Prospecting
Jazzvox Presents: In Your Own Backyard resides in a whole other universe than Katz' work. The concept for this record comes from a series of house concerts in the Seattle, Washington area that Nich Anderson produced, which he called JazzVox. The house concerts provided an intimate venue for duos of singers and instrumentalists to present their work. Anderson, who along with pianist Patti Wicks provides a cover of Jule Styne and Sammy Cahn's "Time After Time" on the record, then decided to take these duos into the studio to document these performances. The end result is a charming and intimate record that features takes of standards such as "You're Getting to Be a Habit With Me" and "Comes Love" (performed by bassist and vocalist Kristin Korb and pianist Randy Halberstadt), and "I'm Old Fashioned" (by singer Jo Lawry and pianist Bill Anschell). There are also less well known tunes, such as Frank Rosolino's "Please Don't Bug Me," on which pianist and vocalist John Proulx and bassist Chuck Kistler swing like mad. As opposed to Katz' record, JazzVox Presents is a straight ahead, swinging, and traditional treatment of vocals with accompaniment, and it will certainly appeal to fans of that approach.
— Chris Robinson, Outside-Inside-Out
The first-ever JazzVox CD In Your Own Backyard has been such a labor of love for Nich Anderson, host of the acclaimed JazzVox Concert Series, and its pure eloquence and charm will win over the hearts of many! Nich's intention was to showcase new studio recordings by many of the recent JazzVox artists, and he accomplishes this so perfectly with an innate sense of real beauty and an intimate understanding of each artist.
The order of songs is carefully arranged by alternating slower pieces with up tempo ones, and the crystal clear segues set just the right mood for every song. This CD begins with a glowing rendition of "Moon River" by the wonderful LA-based songstress Kathleen Grace, so sensitively accompanied by pianist extraordinaire Darin Clendenin. The second song "Comes Love" is performed with much style and soul by LA-based singer/bassist phenom Kristin Korb, along with the esteemed Randy Halberstadt on piano. Next up is a fun, upbeat number "Please Don't Bug Me" by the incomparable LA-based vocalist John Proulx whose mellow, understated delivery is buoyed with his swinging style on the keyboards. Superb bassist Chuck Kistler amply supplies the "groove" to this song. Segue to a smoky blues classic "Blue Monk" sung to perfection by local great Kelley Johnson accompanied with supreme artistry by East Coast guitarist Keith Ganz.
Song #5 is the ever-popular "I'm Old Fashioned" featuring the brilliant NY-based vocalist Jo Lawry whose endearing and colorful interplay with outstanding local pianist Bill Anschell is one of the CD's highlights. Song #6 is the enchanting "theme" song of this recording "Back in your own backyard" performed with lilting grace by NY-based singer/guitarist Hanna Richardson who is accompanied by the uniquely wonderful East Coast pianist Patti Wicks. Song #7 is a gorgeous ballad "All My Tomorrows" exquisitely sung by renowned vocalist/educator Stephanie Nakasian (residing in Charlottesville, VA) and accompanied by Bill Anschell on piano with amazing subtlety of emotion. "The Cat" is a sly, catchy tune arranged and performed by famed LA-based vocalist Cathy Segal-Garcia and is accentuated perfectly by the gifted Portland-based guitarist John Stowell.
The second round of songs starts with another Kristin Korb/Randy Halberstadt collaboration "You're getting to be a habit with me", and Kristin is at her sultry best alongside Randy's impassioned piano playing. Song #10 is the great Fats Waller tune "Honeysuckle Rose" with Jo Lawry's delightful sugary sweet delivery of every note. It really is a joy to again see her at "play" with Bill Anschell who actually tickles those ivories in a stride fashion like "Fats" himself. "Welcome to my world" is one of John Proulx's most poignant and touching compositions revealing undying love for his newly born daughter. It is pristinely augmented by bassist Chuck Kistler once again. Song #12 is the famed Lerner & Lowe tune "If ever I would leave you" performed with great affection by Kathleen Grace and accompanied so serenely and delicately by Darin Clendenin on piano. Song #13 is a timeless Jobim ballad "Triste" featuring Kelley Johnson's evocative and beautiful phrasing together with Keith Ganz's stunning arrangements on guitar.
"Perdido" is a rousing number with Stephanie Nakasian's exuberantly playful interpretation, even including one of her "brass implants" (Instrumental impersonation of a trombone). Bill Anschell was clearly in a "fun" zone right along with her, playing piano with great aplomb. "Time after time" is one of Nich Anderson's favorite standards and he does it great justice with his passionate yet mellow rendition. Nich's honeyed timbre is reflected beautifully by the highly personalized piano style of Patti Wicks. Song #16 is "These Foolish Things", a much beloved ballad that is performed with heartfelt simplicity and great depth by Hanna Richardson with the fabulous Patti Wicks once again. The grand finale is Gershwin's classic "But not for me" done as a lovingly affectionate "romp" by Jo Lawry along with Bill Anschell and featuring David Lange (of Pearl Django) on accordion. It is truly a "celebration", capturing the spirit of all the hard work and love put into this project, and is a fitting explanation point to this glorious CD.
In Your Own Backyard is scheduled to be released by OA2 Records on January 18 when it will be available online through Amazon, Barnes & Noble, and Best Buy. It will of course be featured on the OA2 Records web site (oa2records.com) and is now available on Nich Anderson's JazzVox web site (jazzvox.com). You will want to keep this brilliant debut CD in your "forever" collection and pass it on ad infinitum to your family and friends –it's that special!!
— Libby Graham, The Listening Room
As the commercial venues for lesser-known jazz artists have decreased in numbers during recent years, "house concerts," sponsored by serious fans of the genre, offer an alternative opportunity to support — and expose — these beginners to waiting audiences. Jazzvox is the Seattle area's version of this trend.
In Your Own Backyard pays homage to vocalists who will be new to you, unless you live in the same area where they reside and work. As is usual for house concerts, the accompaniment for a featured artist often is limited to a single instrument, usually a piano, guitar or accordion. Alternatively, a vocalist sometimes plays an instrument while singing.
Of the nine artists featured here, three also are instrumentalists. John Proulx is his own pianist, Hanna Richardson plays guitar, and Kristin Korb is a virtuoso on the acoustic bass. Korb deserves special mention; she's outstanding on the instrument at any tempo … which isn't surprising, considering that Ray Brown was one of her teachers.
All involved with this album are quite talented in specific ways. Kathleen Grace is a better pop vocalist than most who came up via the big band route; Kelly Johnson is a true jazz singer, whose version of "Blue Monk" is the best I've heard; aside from his other gifts, Proulx is a Grammy Award-winning composer; Jo Lawry has toured with Sting; and swinging Stephanie Nakasian has worked with Jon Hendricks.
This is a wonderfully talented — and promising — group of artists.
— Ric Bang, JazzScan.com
It's interesting that when I received this cd the co-producers Bill Anschell, who calls himself an addict, and Nich Anderson said "I hope you find a few enjoyable tracks". Wow, is he the master of the understatement. Putting their time and money together just where it counts, they have produced a series of monthly vocal concerts at Camano Island in Auburn, Washington. Here's a pair of first rate gentlemen actually doing something very positive about this great great songbook of ours. Along with some celebrated singers, they have produced a gigantic work of art in this cd. Each of the 17 tracks by these nine singers is pure musical genius. Kathleen Grace's artistry is most magical on "Moon River" (Mancini/Mercer) and "If Ever I Would Leave You" (Lerner/Lowe). Kristin Korb sings "Comes Love" (Stept/Tobias/Brown) and "You're Getting To Be A Habit With Me" (Warren/Dubin). John Proulx sings "Please Don't Bug Me" (Rosolino) and "Welcome To My World" (Proulx/Dunham). His swinging take on the Rosolino ditty is reminiscent of hipsters who are still very much alive and swinging. Kelly Johnson sings "Blue Monk" (Monk/Lincoln) and "Triste"(Jobim). Jo Lawry sings "I'm Old Fashioned" (Kern/Mercer), "Honeysuckle Rose" (Waller/Razaf) and "But Not For Me" (Gershwins). It's a tremendous threesome of wondrous fine toned material. Hanna Richardson sings "Back In Your Own Back Yard" (Dreyer/Rose/Jolson) and "These Foolish Things" (Strachey/Link/ Maschwitz). Stephanie Nakasian sings "All My Tomorrows" (Van Heusen/Cahn) and "Perdido" (Tizol/Drake/Lengsfelder). A fantastic pair of delights. Cathy Segal-Garcia sings "The Cat" (Garcia/Hoffman). As a delightful bonus Nich Anderson, the co producer, swings "Time After Time" (Styne/Cahn) wailing through with an additional lively and fine-tuned scat. The renowned singer Patti Wicks supports often throughout on piano but alas not singing. Mission accomplished is just what I can say regarding this great historic gathering of nine of the best singers to do just what they do best: sing and sing well for a great cause.
— Dan Singer, In Tune International (Also listed in their Top 10 list of 2011)
~~~
An article about both the JazzVox series and the CD featured on the JazzTimes website:
Nich Anderson and the Art of the Jazz Salon
Christopher Loudon on the JazzVox series of house concerts in the Seattle area
As clubs large and small continue to shutter at an alarming rate, jazz artists must become increasingly resourceful about finding spaces to play. One of the most intriguing trends, fueled by jazz fans equally frustrated by the lack of decent venues, is the staging of cozy concerts in private homes. Few such fans have, however, been as relentless in their pursuit of at-home talent as Nich Anderson. Ten years ago, Anderson was invited to his first house concert, featuring one of his favorite vocalists, Nancy King, performing with guitarist John Stowell. "I was spellbound," he says. "The intimate environment fostered respect and honor for the performers, and their connection with the listeners was magical."
Anderson wanted to replicate the magic in his own home, but lacked adequate room until he and his partner, Steve Pedersen, moved to a larger house in Auburn, Washington. Teaming with friends Andy and Patti Carr, they launched their monthly JazzVox concert series, built around regional and visiting jazz vocalists, usually paired with a local instrumentalist.
After several years of SRO living room shows, Anderson decided to kick the program up a notch and invite his guest vocalists into the studio. The result, released earlier this year on the OA2 label, is In Your Own Backyard, the debut JazzVox CD. The nine sessions that shape the album, all recorded and mixed by David Lange, commenced in August 2009 with Cathy Segal-Garcia laying down a single track — her own composition "The Cat," co-written with Gary Hoffman — with Stowell. Seven more sessions followed sporadically over the next nine months, featuring a top-drawer assortment of singers, including Kathleen Grace, Kristin Korb, Kelley Johnson, Jo Lawry, Stephanie Nakasian, Hanna Richardson and the sole male among all the canaries, John Proulx.
Apart from the lone Segal-Garcia selection, each artist is included twice on the album. To bring the tally to an even 16 tracks, Lawry is given a third tune. A boldly angular treatment of "But Not for Me," it is also the only track to feature two accompanists, with pianist Bill Anschell joined by Lange on accordion.
Other highlights include: lovely readings of "Moon River" and "If Ever I Would Leave You" by Grace, in the company of pianist Darin Clendenin; Korb and bassist Randy Halberstadt delivering top-drawer treatments of "Comes Love" and "You're Getting to Be a Habit with Me," and; superb renditions of "These Foolish Things" and the title track by Richardson with pianist Patti Wicks. Proulx unites with bassist Chuck Kristler for a sprightly "Please Don't Bug Me" and a tender, gentle meander through his own lullaby, "Welcome to My World" (not to be confused with the Jim Reeves country classic of the same name). Nakasian, teamed with Anschell, is in top form on a velvety "All My Tomorrows" and a shimmering "Perdido." Seattle's own Kelley joins guitarist Keith Granz for a gorgeously lithe "Blue Monk" and a stunning, breezy "Triste." Rounding out her trio of tracks, Lawry adds a lilting "I'm Old Fashioned" and a sultry "Honeysuckle Rose."
There is also a surprising bonus track. As Anderson relates in the liner notes, he persuaded Wicks to participate in both the concert series and the recording, but she only agreed on the condition that he would record one song with her. On the Jule Styne-Sammy Cahn gem "Time After Time," Anderson proves himself a decent vocalist, with a slightly reedy tone that hints at Chet Baker, and a valiant scatter.
In Your Own Backyard is currently available from Amazon and CD Universe. And the JazzVox concerts continue apace. For details about upcoming performers and show tickets in the JazzVox series, visit website.
— Christopher Loudon, JazzTimes (Hearing Voices)