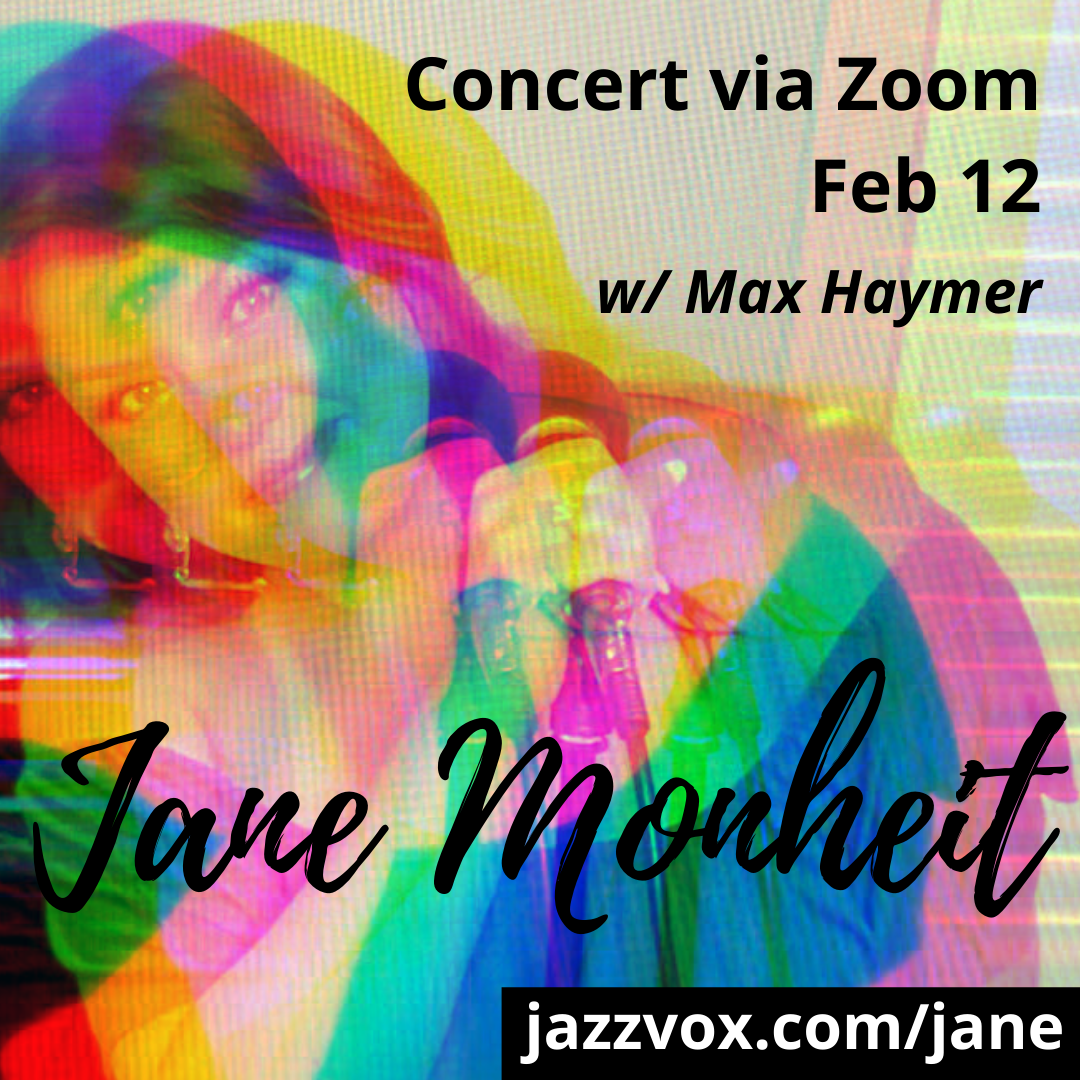 January Concert via Zoom- Jane Monheit w/ Max Haymer
Saturday, February 12th @ 5pm Pacific / 8pm Eastern
Please note, if you would like to watch it after the broadcast, you can request the link to the concert afterward (jazz@jazzvox.com)
Thoughts:
1) Timing: Let's get this on your calendar – and please help get the word out!
2) Money: Amazing Artists… we should pay them! Money is collected upfront via PayPal. Don't use PayPal? Have a friend who does pay for you or contact me (jazz@jazzvox.com).
How much? $20 – They are worth it!
You will get an immediate receipt from PayPal (which doesn't have the Zoom info)
I will personally send you an email with the link usually within 24 hours (which may end up in your junk/spam folder). Email me if you don't get that personal email.
*** Please don't check the box marked "Paying for goods or a service?" – it will just take money away from the artists.
http://paypal.me/janemonheit/20
3) Technology? Eek! Anyone who hasn't used Zoom that would like to do a test run just to make sure they are able… email me
Please… not the day of the concert.
4) Sharing is Caring: PLEASE share the opportunity, but… don't give away the keys to the kingdom. In other words, let people know how to sign up and pay themselves but *don't send them the actual Zoom link* Every home tuning in should be paying. Thanks – You're Amazing!
5) Be ready for Imperfection: Jane will be amazing… but it's Zoom which can have issues and glitches. Thank you for your patience and understanding.
6) What to expect: I do want this mostly to be about music so expect about an hour of actual music. Jane and Max sometimes pre-record the show and will watch it along with you during the Zoom time. Other times… it's literally LIVE. AFTER the concert they will go live and do some Q&A / say hello
7) Questions? jazz@jazzvox.com
Videos: