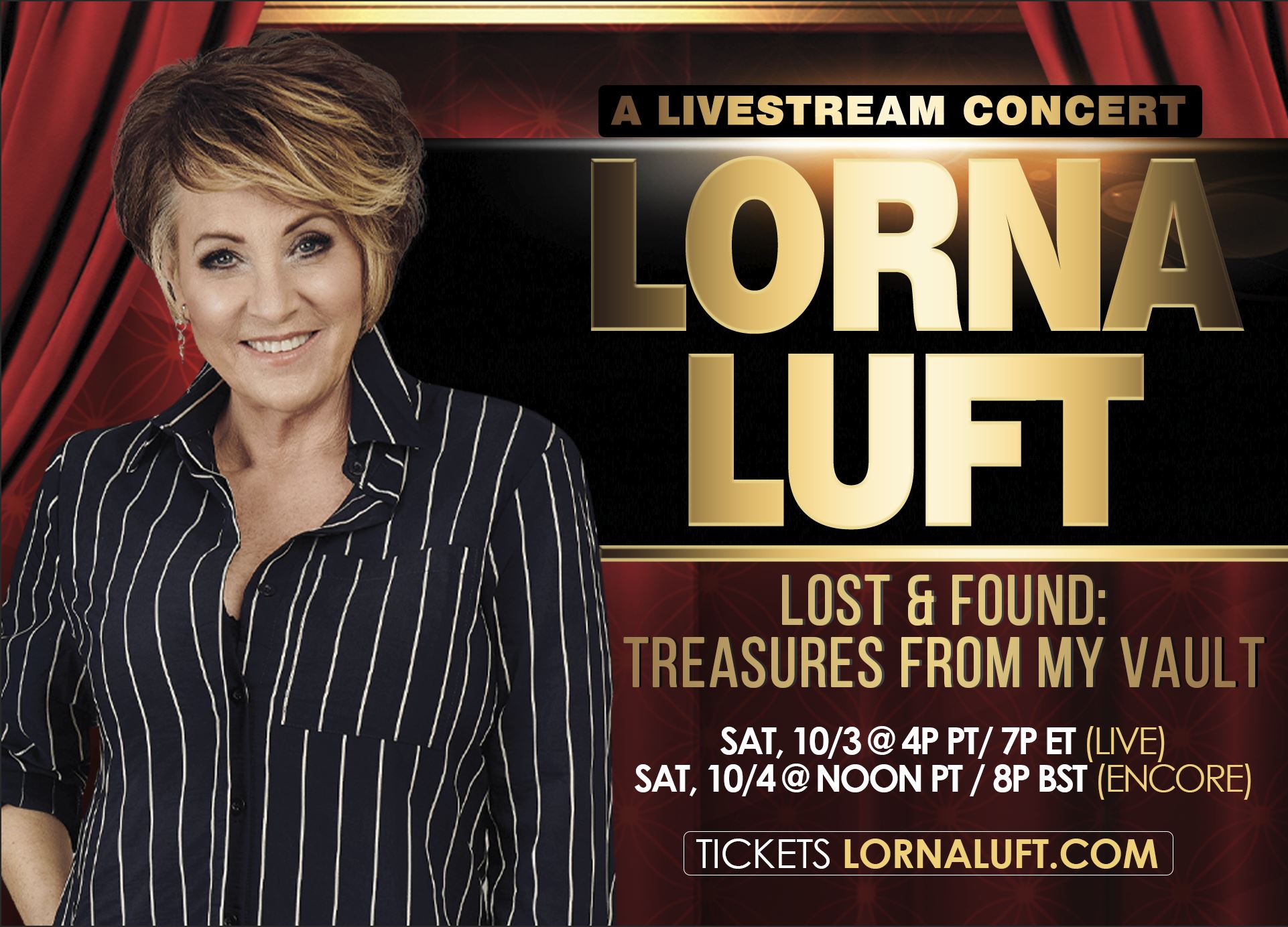 Lorna Luft: Live Concert – Online:
Saturday, Oct 3 @ 4pm PT / 7pm ET
Encore Performance:
Sunday, Oct 4 @ Noon PT / 8pm BST
I don't know about you but once the pandemic began I started cleaning…my closets…my mind…and eventually my vault of music.
You wouldn't believe the things I found gathering dust in the vault. Songs I haven't sung in decades, all the way through to what I thought was lost to history. Songs like Make Someone Happy and my 1973 single for Epic records Our Day Will Come.
So many memories. So many stories.
Join me on Zoom as I reminisce on these found treasures: the music, the stories, and the lessons learned with the hindsight of a lifetime in entertainment.
The debut performance is Saturday, October 3 @ 4pm PT / 7PM PT. As usual, a limited number of after show meet and greets will be available
For those of you in the UK (or who just want to watch again), we will replay the performance on Sunday, October 4 @ Noon PT / 8PM BST.
Can't wait to see you all again!
-L
Thoughts:
1) Signing Up!
After Paying Above… Zoom host Nich Anderson will personally send you an email with the link likely within 24 hours (which may end up in your junk/spam folder). Email him if you don't get that email.
Don't use PayPal? contact Nich: jazz@jazzvox.com.
2) About The Meet and Greet Opportunity Immediately following the concert, Lorna will be holding a separate Meet and Greet Zoom session. Here's your opportunity to say hello and ask a question. Cost is an additional $100 per person. Each participant will have around 3 mins individual time to chat with Lorna while other Meet & Green participants can enjoy hearing their conversation / Lorna's responses. Nich (jazz@jazzvox.com) will email you instructions.
3) Technology? New to Zoom? If you would like to do a test run to make sure things are working… email me
Please… not the day of the concert.
4) Sharing is Caring: Send friends here to pay themselves but *please don't send them the actual Zoom link you receive when you sign up*. Every home tuning in should be paying to support these artists.
5) Be ready for imperfect tech: The Zoom platform is great for many reasons but… sometimes there may be glitches and the sound/video quality and connection for each performer will vary.
6) What to expect: Lorna is planning for approximately 60 mins for the performance. FYI: you'll be on mute much of the time. Audio is mostly for your host Nich and the performers. That said I may at some point give you power to unmute yourselves between songs to applaud (and then re-mute). Feel free to type in the Chat section (applause, comments, etc – I'll send the chat to Lorna afterward and sometimes artists read the comments during the performance).
7) Questions? jazz@jazzvox.com
About Lorna Luft:
Born to the legendary Judy Garland and producer Sid Luft, Lorna began her career on her mother's TV show at the age of eleven. She went on to perform on Broadway in Promises, Promises; Snoopy, the Musical; and Extremities. She has performed in domestic and international productions of They're Playing Our Song; Guys and Dolls; Grease; The Wizard of Oz; Holiday Inn; and White Christmas. She appeared on film and TV in Grease 2; Where the Boys Are ('84); and Trapper John, M.D. Lorna co-produced Life with Judy Garland, the Emmy-winning miniseries based on her memoir Me and My Shadows. Her latest book, A Star Is Born: Judy Garland and the Film that Got Away was released on September 18 to rave reviews. She also celebrates her mother's songbook in a one-woman show and CD, Songs My Mother Taught Me.
Artist Official Facebook Page:
http://www.lornaluft.com