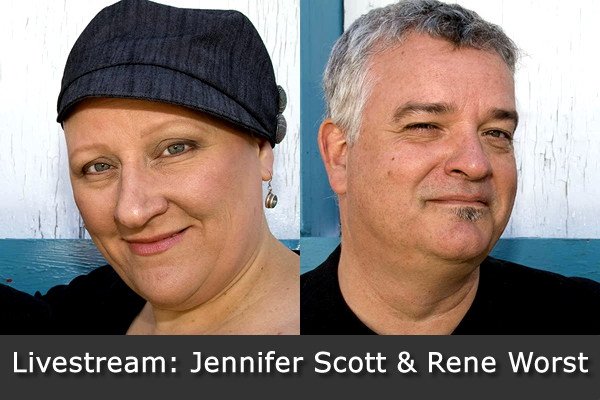 Livestream – Jennifer Scott & Rene Worst
Sunday, May 17th @ 4pm Pacific / 7pm Eastern
Part of a series of livestream shows on the Zoom platform curated by Nich Anderson.
Artists he loves. Friends of JazzVox. Quality performers.
Thoughts:
1) Timing: I'd like to do these with enough time that you can plan for them – let's get them on your calendar and get the word out!
2) Money: Artists… we should pay them! So I'll be collecting money up front via PayPal. Don't have PayPal? Have a friend who does pay for you or contact me (jazz@jazzvox.com).
How much? $20 – They are worth it. 100% of the money goes to the artists.
I will personally send you an email with the link likely in 24 hours (which may end up in your junk/spam folder). Email me if you don't get that personal email (not PayPal's receipt).
3) Technology? Eek! Anyone who hasn't used Zoom that would like to do a test run just to make sure they are able… email me
Please… not the day of the concert.
4) Sharing is Caring: PLEASE share the opportunity, but… don't give away the keys to the kingdom. In other words, let people know how to sign up and pay themselves but *don't send them the actual Zoom link* to the show directly. Every home tuning in should be paying to earn the artists some $$.
5) Be ready for Imperfection: Technology… I expect glitches and of course the sound and video quality and connection for each performer will vary.
6) What to expect: I do want this mostly to be about music so expect about an hour or so of actual music. That said, there is a magic of informality since it's literally from their home – there will often be a little room for Q&A before and/or after. Also it's good for you to know going in… you'll be on mute the entire time. Audio is for your host Nich and the performers only. Feel free to type in the Chat section (applause, song requests, questions, etc) which they may or may not see or respond to. I'm a typer so will be saying hello to you cuties during the performance.
7) Questions? jazz@jazzvox.com
About Jennifer Scott:
Considered the finest Jazz Vocal Improviser in Canada by her peers, her fans and by the musicians who work with her, Jennifer Scott is an important Jazz Voice. She has sung with such Jazz Greats as: Gene Bertoncini, Clark Terry, Tommy Banks, Paul Horn and Kenny Wheeler to name a few. She has been nominated for Juno and Jessie Awards with 'Mythos' and theatre production 'War of the Worlds'.
"Scott has set herself apart from the jazz-vocalist pack with her mesmerizing renditions of the most unlikely tunes … With her warm, flexible contralto, Scott brings a striking emotional intelligence to everything she sings, no matter what the context. As much a song stylist as an improviser, she puts her stamp on material through her supple sense of swing and deft, slippery phrasing. Jennifer Scott is an in demand performer, clinician and teacher of workshops throughout the USA and Canada."
– Andy Gilbert (Jazz Times):
About Rene Worst:
Rene Worst has been a professional bassist since 1971. His virtuostic and supportive bass playing has been a Canadian treasure for many years on both acoustic and electric basses. He is as gifted on fretless as he is on acoustic – a rarity in the industry. Rene was educated both in Canada and the US. Rene Worst is one of the founding members of the noted fusion band "Skywalk" and has anchored and produced six recordings with them. He is also a highly regarded Producer.
Some of the many names with which Rene has performed:
Chet Baker, David Bowie, Poison, Aerosmith, Mark Murphy, Freddie Hubbard, Joe Pass, Herb Ellis, Larry Correll.