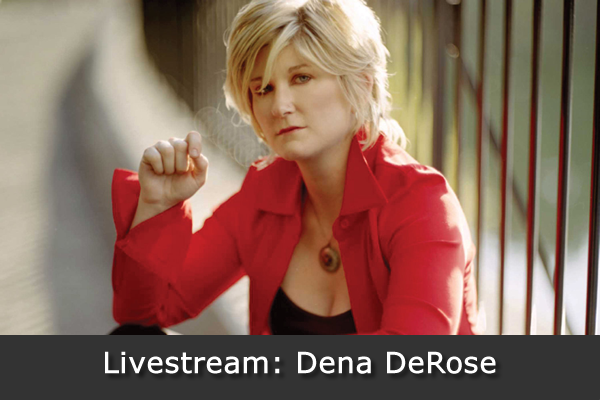 Livestream – Dena DeRose
Sunday, May 31t @ Noon Pacific / 3pm Eastern
Part of a series of livestream shows on the Zoom platform curated by Nich Anderson.
Artists he loves. Friends of JazzVox. Quality performers.
Thoughts:
1) Timing: I'd like to do these with enough time that you can plan for them – let's get them on your calendar and get the word out!
2) Money: Artists… we should pay them! So I'll be collecting money up front via PayPal. Don't have PayPal? Have a friend who does pay for you or contact me (jazz@jazzvox.com).
How much? $20 – They are worth it. 100% of the money goes to the artists.
I will personally send you an email with the link likely in 24 hours (which may end up in your junk/spam folder). Email me if you don't get that personal email (not PayPal's receipt).
3) Technology? Eek! Anyone who hasn't used Zoom that would like to do a test run just to make sure they are able… email me
Please… not the day of the concert.
4) Sharing is Caring: PLEASE share the opportunity, but… don't give away the keys to the kingdom. In other words, let people know how to sign up and pay themselves but *don't send them the actual Zoom link* to the show directly. Every home tuning in should be paying to earn the artists some $$.
5) Be ready for Imperfection: Technology… I expect glitches and of course the sound and video quality and connection for each performer will vary.
6) What to expect: I do want this mostly to be about music so expect about an hour or so of actual music. That said, there is a magic of informality since it's literally from their home – there will often be a little room for Q&A before and/or after. Also it's good for you to know going in… you'll be on mute the entire time. Audio is for your host Nich and the performers only. Feel free to type in the Chat section (applause, song requests, questions, etc) which they may or may not see or respond to. I'm a typer so will be saying hello to you cuties during the performance.
7) Questions? jazz@jazzvox.com
About Dena:
"The most creative and compelling singer-pianist since Shirley Horn"
– Joel Siegel
"Dena DeRose sings Jazz as if she had been at it her whole life long, and then some"
– Terry Teachout
Dena has accumulated an impressive list of performance credits. From the legendary clubs around the world like the Blue Note, Smoke and the Jazz Standard in New York, the Kennedy Center in Washington D.C., The Jazz Showcase in Chicago, The Monterey Jazz Festival, The North Sea and The Hague Jazz Festivals (Holland), The Jazz Cruise (2005, 2007, 2008, 2011). Dena has performed with Ray Brown, Clark Terry, Marian McPartland, Benny Golson, Ray Drummond, Ken Peplowski, John Clayton, Jeff Hamilton, Phil Woods, Rufus Reid, Jay Clayton, Mark Murphy and many, many others.
DeRose has been chosen by Downbeat's Critic's Poll as an "Artist Deserving Wider Recognition" in 2003, 2006, 2008, 2013, 2014, and 2015. All About Jazz anointed her as a "Jazz Artist of the Year" in 2003, and "Best Jazz Album" of 2007. Her CD's, A Walk in the Park, Live at Jazz Standard Vol. 1, Live at Jazz Standard Vol. 2, and "Travelin' Light", all garnered 4 stars in Downbeat. She was featured three times on NPR's "Marian McPartlands' Piano Jazz" including the "30th Anniversary" show recorded live at Dizzy's Coca-Cola Jazz club in NYC with piano greats Kenny Barron, Mulgrew Miller, Bill Charlap, Cedar Walton, Dick Hyman, and others. Dena also appears on the CD "NPR's Piano Jazz Christmas Compilation".