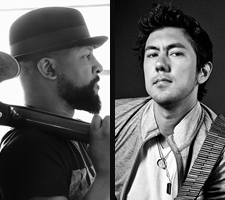 Artist: David Ryan Harris w/ Justin Kawika Young
Date: Nov 10, 2017
Location: Cap Hill (neighborhood of Seattle)
Doors Open and Food/Beverage Provided: 7pm
Performance: 8:00-10:00 (with a 20 min intermission)
Reservations: ($45 per person donation)
**Sold Out**. If you'd like to be on the waiting list in case of cancelations,
Contact Nich: jazz@jazzvox.com 206-963-2430
Videos
About The Artists:
David Ryan Harris:
Singer, songwriter, and multi-instrumentalist David Ryan Harris always sings, writes, and performs with soul. Over the course of six full-length solo albums, he tells stories that resonate. He's carried this same spirit while performing with the likes of John Mayer, Dave Matthews, and Santana or producing for Cassandra Wilson and Guy Sebastian— with whom he co-wrote the RIAA platinum-certified "Battle Scars". His 2015 recording Lightyears boasted guest spots from John Mayer, India.Arie, and Nikka Costa. He received acclaim from All Music Guide, Glide Magazine, Elmore Magazine, Performer Magazine, AXS, Relix Magazine, and many others in addition to performing on Fox, CBS, and The CW in between packed tours. His next chapter unfolds on his 2017 seventh offering Songs For Other People.
Justin Kawika Young:
Opening for David Ryan Harris is Hawaiian-born singer-songwriter Justin Kawika Young. Guitarist (and fiance!) of Colbie Caillat and was a special guest as part of Gavin DeGraw's national tour. Justin has self-professed himself as a voracious non-fiction book collector, aspiring reader, 90's R&B aficionado and UNO champion.
Artist and Tour Websites: