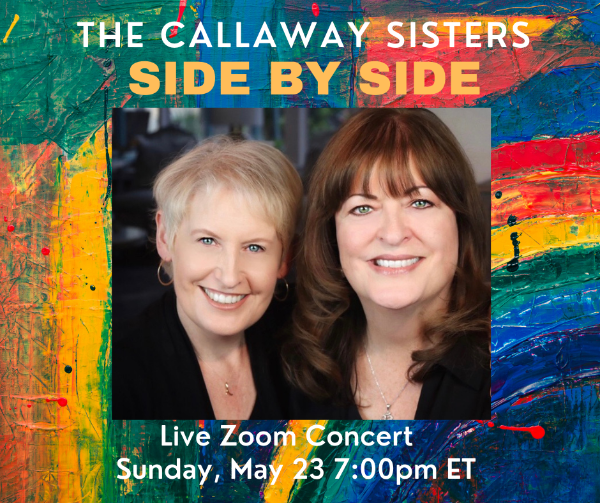 THE CALLAWAY SISTERS: "SIDE BY SIDE"
Live Zoom Concert
Sunday, May 23 – 7:00PM Eastern / 4:00PM Pacific
Join Tony-nominated sisters Ann Hampton Callaway and Liz Callaway for their highly anticipated Zoom livestream concert premiere of "SIDE BY SIDE". Inspired by their recent joyous reunion after a 14-month pandemic separation, Liz is flying from New York a month later to return to Ann's home in Tucson for this special "Callaway Hideaway" show on May 23rd at 7PM ET/4PM PT. The celebrated siblings will be singing songs from their acclaimed sister acts "Sibling Revelry", "Boom!", and "Broadway the Calla-way!". Expect some surprises as well, along their hit theme song from "The Nanny", now airing on HBO+. Ever since Ann and Liz combined musical forces in their cabaret classic "Sibling Revelry", they've garnered raves in sell-out halls across the country, both as a trio act, and with symphony orchestras. Their live CDs remain classic cabaret must-haves. This livestream show will be up close and personal, as the sisters share stories about their lives and bring thrilling harmonies and riveting interpretations to some of the most beloved songs of Broadway, pop and jazz.
Tickets are $25
**The concert will also be available On Demand for one week (Through May 31). All ticket buyers will emailed a link to the show on May 24th.
Thoughts:
1) Timing: Let's get this on your calendar, prepaid and please help get the word out!
2) Two ways to pay for this show:
PayPal – using Ann's PayPal
PayPal.me/annhamptoncallaway/25/
Credit Card – using Liz's website shop:
https://lizcallaway.com/shop/virtual-ticket-the-callaway-sisters-side-by-side
** Either way you will be getting emails from Ann's manager Brett with Zoom info
(and then seeing Nich's face to host/greet you!)
3) Technology? Anyone who hasn't used Zoom that would like to do a test run (before the day of the concert) email me
4) Sharing is Caring: PLEASE share the opportunity, but… don't give away the keys to the kingdom. In other words, let people know how to sign up and pay themselves but *don't send them the actual Zoom link* Every home tuning in should be paying. Thanks – You're Amazing!
5) Be ready for Imperfection: The Callaway Sisters will be incredible… but Zoom can have issues and glitches. Thank you for your patience and understanding.
6) What to expect: Expect about an hour of actual music. Also it's good for you to know you'll be on mute most of time… but I will give you the ability unmute inbetween songs to applaud. Feel free to type in the Chat section (applause, song requests, questions, etc) which they may or may not see or respond to during the show – but they will get a transcript afterward. I'm a typer so will be saying hello to you cuties during the performance.
7) Questions? jazz@jazzvox.com
QUOTES ABOUT THE CALLAWAYS
"Their voices blend and soar majestically like eagles!"
-Rex Reed
The New York Observer
"When their strikingly different but equally splendid voices harmonize,
Sibling Revelry becomes a thrilling display of vocal prowess."
-Stephen Holden
The New York Times
"Truly, sisterhood is beautiful."
-John Simon
New York Magazine
"Laugh, cry, and revel in two exuberant, limitless talents."
-Jacques LeSourd
Gannett Newspapers
VIDEOS
ARTIST WEBSITES
linktr.ee/AnnHCallaway
linktr.ee/LizCallaway