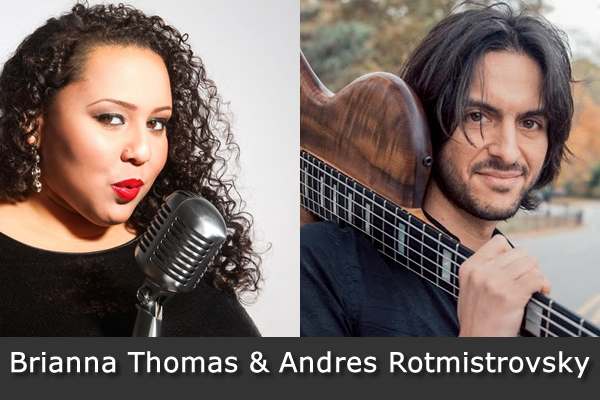 Artist: Brianna Thomas & Andrés Rotmistrovsky
Date: February 3, 2019
Location: Camano
Doors Open and Food/Beverage Provided: 1pm
Performance: 2:00-4:00pm (with a 20 min intermission)
Reservations: ($40 per person donation)
*** While this show is sold out, if you'd like to be on the waiting list or have questions: Contact Nich: jazz@jazzvox.com 206-963-2430


Brown Paper Tickets Ticket Widget Loading…

Click Here to visit the Brown Paper Tickets event page.
Videos
About The Artists:
Brianna Thomas: "Ms. Thomas has a strong voice and a big range, descended from Sarah Vaughan and Betty Carter and routed through Dianne Reeves, with clarity and confidence and a little dirt."
– Ben Ratliff, The New York Times
"Brianna Thomas may well be the best young straight-ahead jazz singer of her generation."
– Will Friedwald, The Wall Street Journal
Andrés Rotmistrovsky: A rising star who is in demand, Andrés' bass guitar is heard on more than 50 albums – he has worked with acclaimed artists including Joan Baez, Ruben Blades and Marta Gomez. He has toured the world several times and performed in prestigious venues including The Blue Note Jazz Club, Carnegie Hall, Lincoln Center, at the Latin Grammys, The Apollo Theater, Nokia Theater, Boston Symphony Hall and the Montreux Jazz Festival. Bass Player Magazine called Andrés "a talented newcomer". He has created quite a buzz with his melodic approach to bass and has been featured in publications and on websites.
Artist Websites: