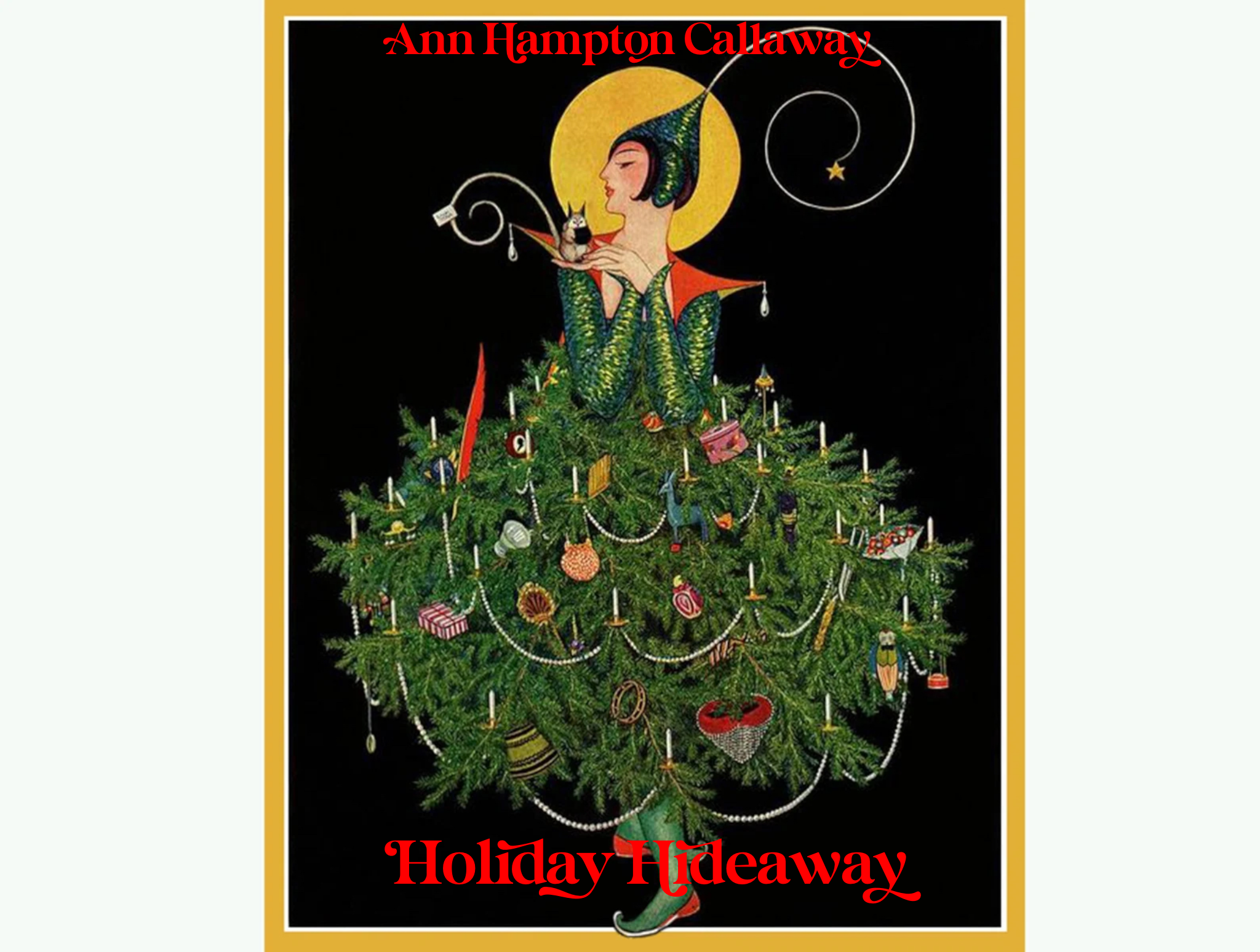 Holiday Hideaway Livestream – Ann Hampton Callaway
Sunday, December 19th @ 4pm Pacific / 7pm Eastern
You are hereby invited to get in the holiday spirit as Ann Hampton Callaway regales you with wonderful songs of the season in her livestream show "Holiday Hideaway"!!!
As a thank you to her musical family, all tickets will be a discounted $20. Please share your requests with her by December 13th. All ticket holders will also receive a YouTube link of the show the next day to enjoy through the season. Ann can't wait to share in the joy with you all in "Holiday Hideaway" at the Callaway Hideaway!
Thoughts:
1) Timing: Let's get this on your calendar, prepaid and please help get the word out!
2) Money:. Payment for this show is being run through Ann's agent's PayPal (Brett Steele)
So you will be getting emails from Brett with Zoom info – and then seeing Nich's face to host!
3) Technology? Eek! Anyone who hasn't used Zoom that would like to do a test run just to make sure they are able… email me
Please… not the day of the concert.
4) Sharing is Caring: PLEASE share the opportunity, but… don't give away the keys to the kingdom. In other words, let people know how to sign up and pay themselves but *don't send them the actual Zoom link* Every home tuning in should be paying. Thanks – You're Amazing!
5) Be ready for Imperfection: Ann will be amazing… but it's Zoom which can have issues and glitches. Thank you for your patience and understanding.
6) What to expect: I do want this mostly to be about music so expect about 75 minutes of actual music. Also it's good for you to know going in… you'll be on mute most of time but I will give you the ability unmute in-between songs to applaud. Feel free to type in the Chat section (applause, song requests, questions, etc) which they may or may not see or respond to during the show – but they will get a transcript afterward. I'm a typer so will be saying hello to you cuties during the performance.
7) Questions? jazz@jazzvox.com
About Ann Hampton Callaway:
Ann Hampton Callaway is one of the leading champions of the great American Songbook, having made her mark as a singer, pianist, composer, lyricist, arranger, actress, educator, TV host, and producer. A born entertainer, her unique singing style blends jazz and traditional pop, making her a mainstay in concert halls, theatres and jazz clubs as well as in the recording studio, on television, and in film. She is best known for her Tony-nominated performance in the hit Broadway musical Swing! and for writing and singing the theme song to the hit TV series The Nanny. Callaway is a Platinum Award-winning writer whose songs are featured on seven of Barbra Streisand's recent CDs. The only composer to have collaborated with Cole Porter, she has also written songs with Carole King, Rolf Lovland, and Barbara Carroll, to name a few. Her latest CD, Jazz Goes to the Movies debuted at #12 on the Billboard Jazz charts.
www.annhamptoncallaway.com
"For sheer vocal beauty, no contemporary singer matches Ms. Callaway."
– Stephen Holden, New York Times
"Great is one of the most over-used words in the dictionary but just as Ella Fitzgerald was the greatest jazz singer of her era, so too is
the magnificent Ann Hampton Callaway of hers."
– Musical Theatre Review